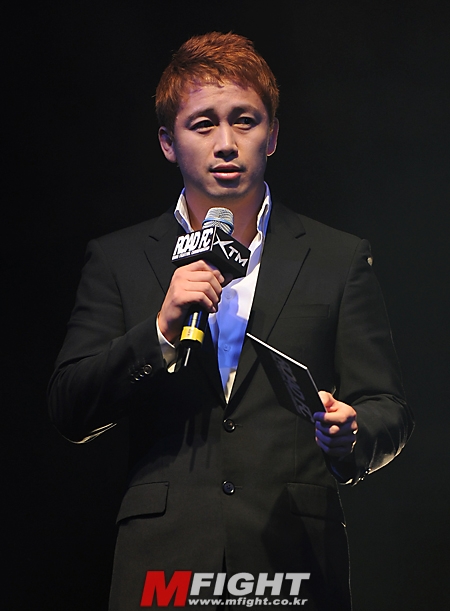 ROAD FC PRESIDENT JUNG MUN-HONG INTERVIEW
-Talks about not being in the MMA business to make money
-Self Funded ROAD FC
-How he helped Soo Chul Kim become champion
-UFC bashing
-Negotiating with Cro Cop and other former UFC/PRIDE fighters
-Denis Kang Bashing
-Goals of ROAD FC
PLEASE READ,
most comprehensive interview about ROAD FC and the KMMA scene
==================================
We have not talked in over a year, how are you?
Quote:
Yes, I have been working hard and exerting myself this past year. In one way I have been living my life more as a fighter than a businessman. I have also been busy with creating a network with other leagues and other promotions in Asia. I am really proud of the system I have made which allows domestic fighters to fight in both Korea and abroad.
It is soon going to be the 10th show for ROAD FC.
Quote:
I have no idea how time has past so fast. Looking back I did not have enough time. It seems like I have just been looking forward these past two years. I have achieved some things but there is still a lot of homework left. I am a bit disappointed because I almost feel as if the last of my youth has now disappeared (laughs). But in the end I did work as hard as I could.
Have you reached most of your goals?
Quote:
Honestly, at first I had no real goals or set plans. I just wanted to do well. But naturally it seems goals have appeared.
What is the ultimate plan of ROAD FC?
Quote:
We are already one of the best promotions in all of Asia, but the real core of ROAD FC is to give a show to all the Korean fans who love MMA and to give domestic fighters a chance to fight elite fighters. We will also be forever loyal to all the ROAD FC fighters who trust us and have faith in the ROAD FC brand.
Before, you were the main investor for ROAD FC but I have heard recently ROAD FC has other financial backers. This must take a lot of pressure off of you.
Quote:
Not really. At the start it was basically all my own money, but recently Gupnae Chicken is sponsoring ROAD FC and that did help a bit. Other than that Park Sung Min and Lee Sung Yoon are also helping fund ROAD FC.
There are rumors that you are not making much of a profit?
Quote:
Well, the situation is that in South Korea not even the basic frameworks were in place to make a profit with an MMA organization. Of course, I knew this going into this business. I have said this before but I do not see ROAD FC as just a business that I was going to profit from. I am doing this to improve the infrastructure of Korean MMA and to help all the fighters and people involved in MMA. I have promised this to all the fighters under the ROAD FC umbrella and after seeing their loyalty I have taken out of my own pocket to help all the struggling fighters. Of course, I have also created an infrastructure for Korean MMA that will greatly develop and help the group of young and hungry Korean fighters.
I guess you can say this is the difference between ROAD FC and other organizations.
Quote:
Exactly. I have said this many times before but it seriously disheartens me when I see people in the MMA business who are just there to make a buck. If I were getting into this to make money I would never have started ROAD FC. Honestly, if I closed down ROAD FC fight now, in a few months I would again be making a profit from my business endeavors. Also I would actually have time to spend with my family and lessen the intense stress. But I made a promise and I plan on keeping it.
How are the ticket sales?
Quote:
You can basically say it just equals the cost of getting ROAD FC on television networks in South Korea. If you also include all the fees to have a show take place, I am basically making nothing. I know that the hardcore Korean MMA fans already know this so maybe they should try to come to the shows more. Even that little aspect would help out ROAD FC a lot.
It seems ROAD FC will start a HW tournament, but there does not seem to be enough domestic fighters in that weight class.
Quote:
Yes, that is why the HW tournament will be more of an open weight tournament. Both LHW and HW fighters will participate in the tournament. It would be fought at 93kg. If Jeff Monson joins the tourney, a lot of fighters will be willing to fight in this tournament. I think it will go underway next year.
Why did you pick Lee Eun Soo to fight Shungo Oyama?
Quote:
Honestly, there was a lot of back and forth whether or not Lee should fight or Jae Young Kim should fight Oyama. But Lee Eun Soo does have a win against Jae Young Kim, and although you can argue Kim beat Melvin Manhoef, he still lost the fight. It was also a timing issue. But although I picked Lee Eun Soo I feel very apologetic to Jae Young Kim.
ROAD FC is picking up a lot of strong foreign fighters, who else are ROAD FC targeting?
Quote:
We have a network in place with basically every major promotion in the world. Everything must work out but we are having contract negotiations with Mirko Cro Cop. It is a very real possibility that Cro Cop fights in ROAD FC. We are also scouting and talking to a lot of past PRIDE and UFC fighters. But I cannot reveal anything as of now.
Are the fighters satisfied with how ROAD FC is developing as an organization?
Quote:
We will reveal some big news soon. While currently we have the number series and the young guns series, we will be adding another brand to ROAD FC. So the fighters need not to worry about getting fights and getting paid. We will never disappoint any fighter that is loyal to and fights for the ROAD FC brand. ROAD FC also allows fighters to fight in other organizations. That is another thing we believe is an important issue.
Why did ROAD FC part ways with Denis Kang?
Quote:
Honestly, I hoped Kang would have been an honorable Korean. I really wanted to revitalize his career. Hence, why I tried to get him on major networks and TV shows in South Korea. But every time, Kang would only want to fight the weakest challengers, avoided a lot of fighters, and always wanted something extra after his fights. These are the reasons why we could not continue to do business with Denis Kang.
Recently there has been a rash of fighters who want to pick and choose their opponents.
Quote:
I want to say one thing to all the fighters who are picking and choosing opponents or taking performance enhancers. That is not the true nature of MMA. Aren't sports about winning fairly? Maybe this kind of "winning at all costs" environment is because of companies like the UFC.
Already you have let Kyung Ho Kang off his contract to go the UFC, and you have said you would do this for other fighters as well.
Quote:
Honestly, I wish I could have thought of a better solution. Kang actually let it all up to our management. I guess it was a combination of faith and thankfulness in us. Basically if a fighter leaves but still has loyalty and thankfulness to ROAD FC, this kind of relationship will continue.
After the ROAD FC 10 show in Busan, where will the next show take place?
Quote:
Either in Seoul or Incheon. Nothing is set in stone yet.
Recently your pupil, Soo Chul Kim became the ONE FC Bantamweight Champion.
Quote:
It is all because of his own hard work. Actually going into that fight Soo Chul had a severe shoulder injury because of his fight with Bellingon. He actually trained for most of the camp with one arm. After the first round of the ONE FC fight, he said to me "that guy is too strong". So as usual I told him, "Why would you do MMA to hit weak people? You need to defeat the strong opponents. That is how you become strong!". And after that he seemed to become brave.
Recently, another Korean Promotion has started, "REVOLUTION".
Quote:
I hope they give a lot of opportunities to all the Korean fighters that could not participate in ROAD FC. I hope this helps the whole MMA community in Korea. I don't care if another organization opens that has 100 times the financial backing I have, what other promoter keeps promoting shows even though he is losing a bit of money every time? I just hope this promotion becomes the type of organization that actually cares less about financial gains but more about the advancement of the Korean MMA scene.
Last words?
Quote:
ROAD FC has basically taken 2 years of my life away. To all the people who trust and follow me, I will say as the president, I will dedicate my life to ROAD FC. I am not saying this to impress anyone or to convince anyone. Eventually the results of ROAD FC will speak for itself.